Crisben Granules Spill Kit
ZEOSORB GRANULES (can be replenished separately) is excellent for Oil and Chemical spills clean-up especially on roughen, cracks and crevasses surfaces and has been approved for use in many ISO 14001 certification and compliance exercises.
Comes in REUSABLE 18 litres pail to allow rapid deployment to any part of your site. The kit comes together with an additional REUSABLE 5 litres pail for the used and contaminated granules; normally treated as Schedule Waste. (example, SW408 for oil+granules). The kit comes with a Brush and Pan for easy sweep up.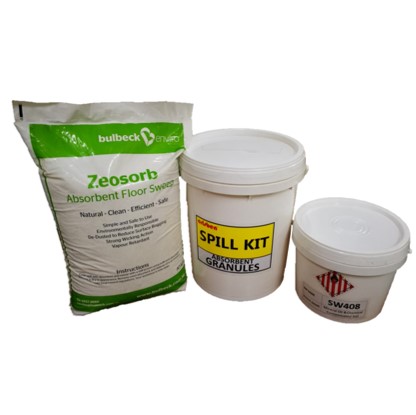 Who Should use this…
Every Vehicle Service Centre/Automobil

Petrol Stations

Oil or Chemical Storage Room

Vehicle Servicing Workshops.
Compliance to ISO 14001, OSHA, DOSH and other Environmental Certifications.
All our Customers are trained to Deploy and Clean up using Zeosorb absorbent granules.