Crisben Cytotoxic Spill Kit
This Cytotoxic Spill Kit comes in a kit for easy storage and deployment at any part of your site. The kit contains a range of absorbents for Pathogenic Waste; vomit, blood, urine, biohazard and harmful liquids spills.
Crisben Cytotoxic spill kit comes in a small handy pouch for easy storage and quick deployment to any area of your site. The kit contains a range of absorbents for Cancer Treatment drugs. The vials which keep these drugs may break or spilt and if not properly cleaned up, the contents may cause harm to the handling personnel. It is therefore important that these drugs be cleaned up, neutralised and disposed of properly as clinical waste. The contents of this kit readily absorbs chemicals based liquids and other harmful liquids spills and also reduces gaseous vapours.
Who Should have one…
Every lab/clinic that is handling cytotoxic drugs and similar harmful liquids.

Compliant to ISO 14001, OSHA, DOSH and other Environmental Certifications.
In the event of a cytotoxic drug spill, a rapid response time and personnel safety is crucial. All employees must be able to respond, perform a clean-up and neutralise the contaminated area. That is why at Crisben, we emphasise on a Spill Response Training to all our Customers.
All our trained Customers understand how to:-
Correctly use the Cytotoxic Spill Kit.

Deploy Absorbent Pads

Clean up using Zeosorb

Clean up using Jelosorb

Sanitize the area using the Alkaline Detergent
Every contingency clean-up plan should include a Crisben Emergency Spill Kit as the first response for handling Hazmat Spills. These custom made cytotoxic spill kits have been supplied to scores of Malaysian Government Health Care facilities throughout the country.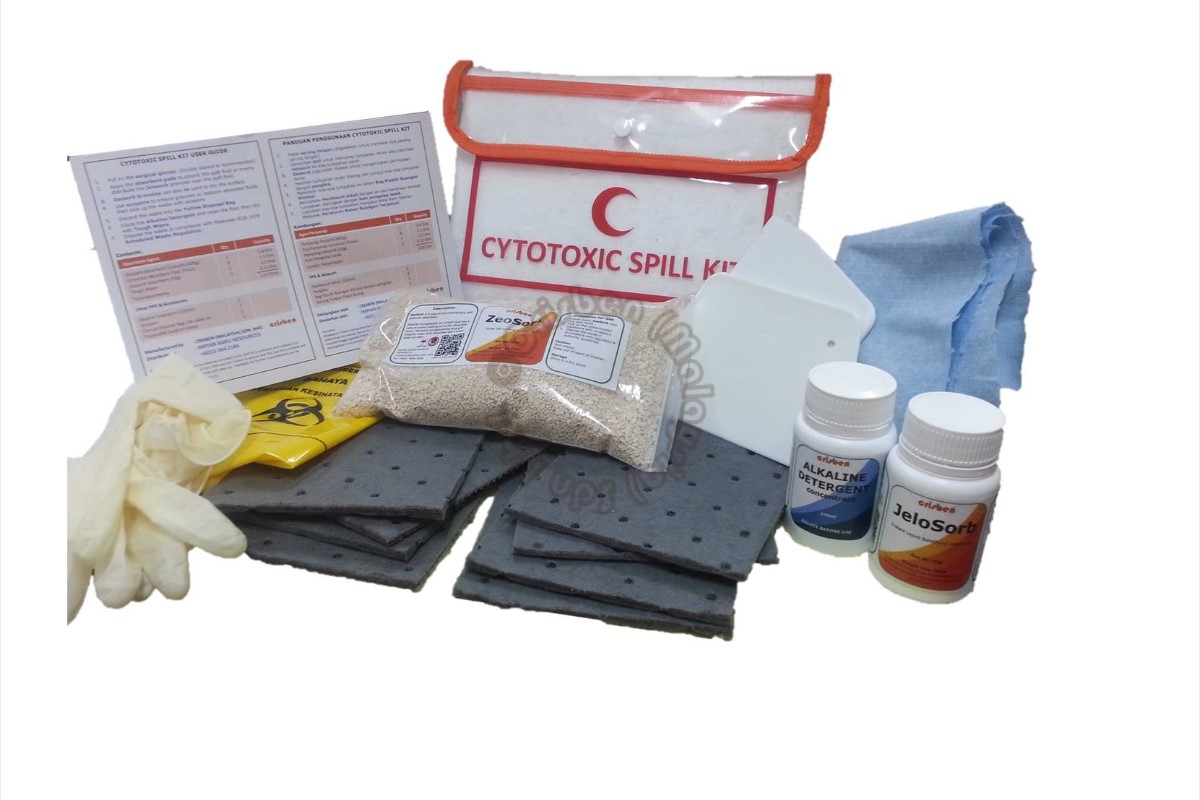 Crisben Cytotoxic Spill Kit Pouch